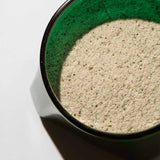 WOOD & SPICE Bovine Collagen with Wattleseed, Davidson's Plum & Cinnamon Myrtle By Beth Vessel 300g
Description

TRANSFORMATIVE AND TRULY MAGICAL. NOURISHING AND SMOOTHING. CALMING AND AROMATIC


The antioxidant and healing properties of native botanicals combine with 100% Australian bovine collagen.

Build beauty from the inside out with this deliciously aromatic formula.

Comforts and calms while revealing your inner-glow. Specifically formulated to support skin health and hydration, strengthen hair and nails, and improve gut health.

Be your best and brightest.



THE BY BETH VESSEL

An ultimate expression of form meets function. The signature By Beth Vessel elevates your daily beauty ritual. Crafted from environmentally sustainable materials, glass and wood, the By Beth Vessel is designed to be re-filled time and time again with your favourite formula.

Completely plastic-free and minimal waste.
Active ingredients are safely stored in UV-protected glass.
The wood lid seals in freshness.
A beautiful momento of your wellness journey.
Choose your By Beth Refill Pouch of choice and easily refill when empty.
Ingredients
How to Use
Packaging
Ethos
The Holy Grail for Glow
Care Info
Quality Guarantee
Frequently Bought Together: