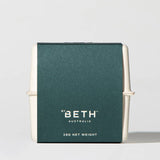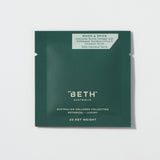 Description

14 single serves


TRANSFORMATIVE AND TRULY MAGICAL. NOURISHING AND SMOOTHING. CALMING AND AROMATIC.


The antioxidant and healing properties of native botanicals combine with 100% Australian bovine collagen.

Build beauty from the inside out with this deliciously aromatic formula.

Comforts and calms while revealing your inner-glow. Specifically formulated to support skin health and hydration, strengthen hair and nails, and improve gut health.

Be your best and brightest.

Beauty in a single-use sachet. Packaged in FSC kraft paper and recycled film, these individual serves allow you to take By Beth with you on-the-go. A convenient way to get your daily dose of wellness. All sachets come in a recyclable box made from 100% bamboo pulp, wrapped in a sleeve crafted from FSC certified paper and soy-based ink. Each set includes 14 individual sachets.
Ingredients
How to Use
Packaging
Ethos
Collagen & The Body
Care Info
Quality Guarantee
Frequently Bought Together: